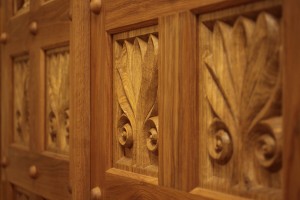 These mighty oak doors have just been sent to Madrid, where they're to be installed into the main entrance of the new Russian Orthodox Church of St Mary Magdalene.
The carvings are inspired by early Spanish designs with plants and birds that evoke the garden of Eden. On the inside of the door sixteen icons in gold leaf on patinated copper depict the major feasts of the Christian year. 
Aidan worked on the project with his assistant Martin Earle, Worrall Joinery, and master blacksmith Frazer Picot who hand forged the iron fittings.
We'll post pictures of the doors in situ as soon as they're installed…